Habitat Ecovillage
With our life in Sieben Linden we show that it is possible to populate and at the same time to enrich spaces. Today, after 15 years, we diverted, both, arable and pine monocultures into a diverse ecosystem. We share the newly created area with many species, plants and animals alike. The village is planned by a settlement planning group and grows organically, mostly according to permaculture principles. In the garden as well as in the forest we work with machinery but also with horses, thus preventing a lot of soil compaction. The mainly shared cars park at the village border.
Ecological footprint
A study by Kassel University on ecological footprint revealed that we leave a three times smaller footprint than the average german person. Especially because of the vegan/vegetarian diet, car sharing, the avoidance of plane travels and the good insulation of our houses.
Building with straw, wood and clay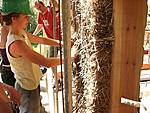 Most of the low-energy houses in Sieben Linden are built with straw bales. This makes our village the one with the highest density of straw-bale-buildings in Europe. Every new house opens up a new research area for further development of this building technique, which we pass on in seminars, by the way. The straw bales come from local organic farmers and the timber comes mostly from our own forest. We use clay that comes sometimes from our ground as well to plaster the buildings on the outside.
Heating with wood, sun and earth
Due to the good insulation of our low-energy and passive-energy houses and through solar panels and ground heat the energy requirement for heating is only 1/3 compared with the german average. If the sun is insufficient for warmth then we heat with wood. Most of the firewood comes from our own forest.
Sustainable energy sources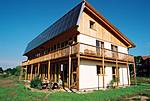 Approximately 65% of the yearly required electric power is generated by photovoltaic systems. Due to consequently not using electric power for heating and cooking and an economic domestic usage the consumption per head in Sieben Linden amounts to ¼ of the german average.
Water cycle
We get water from the local supplier and from our own well. After Usage it is carried to the reed bed system. We use the resulting grey water for irrigation. Water consumption is reduced to 1/2 of the German average, due to the application of compost toilets.
Self-sufficiency and sustainable consumption
The organically managed horticultural area comprises of approximately 3 ha land. This enables us to satisfy the needs for vegetables, fruit and herbs. We are still in process of planning the cultivation of arable crops, grain and pulses on our arable land. All other food comes from local organic farms and an organic wholesaler. Consequently the bigger part of our food is local and seasonal. Our communal kitchen is solely vegetarian, largely vegan. The individual households decide themselves what diet they prefer.
Goods and devices for household and office, building materials, clothes etc. we buy, if possible, from sustainable manufacturing or use second-hand products.