Collectively sustained: land and infrastructure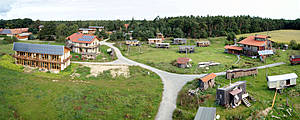 The basis of Sieben Linden stands on legal and equal footing. As a member of the co-op (Siedlungsgenossenschaft Ökodorf eG – SiGe) every resident finances with their individual share of nearly 13.000 Euro the entire area (81,5 ha) and the infrastructure.
The SiGe takes on many communal obligations. For the day-to-day operating costs everyone pays an average of 100 Euro as a monthly user fee.
Cooperatively and neighborly sustained:
Financing of houses
At present there are 8 residential buildings plus the seminar center (Regiohaus) in Sieben Linden, built according to low-energy and passive-energy standards. These houses are occupied by the neighborhoods or shared household groups, respectively. The housing co-op (Wohnungsgenossenschaft Sieben Linden eG – WoGe) provides the legal and financial frame for a part of the building projects. Every future residents of those houses give their share and a certain amount of working hours into the WoGe. The still due capital contributions are either covered by extra shares of the residents or by WoGe, borrowing the money from banks or individuals. After the residents moved in they pay a rent, accordingly to their financial or work input.
Keeping the added value in the village:
Self-financing
In general, everyone stands financially on their own feet. With numerous opportunities for jobs labour and added value are concentrated inside the village. Employers are SiGe (forest, garden), WoGe (administration), Freundeskreis Ökodorf e.V. (seminar center), Naturwaren e.V. (food co-op) and Einfach Gut Leben e.V. (eurotopia book). Many freelancer offer their labour inside and outside the village. More… (Betriebe)
For making as many livings as possible we attempt to make every incoming coin circulates several times in the village before it leaves again.
Appreciation:
Working in Sieben Linden
Many works for the construction and development of the Ecovillage are done voluntarily – this is the fundament of the community project. We have regular cleaning duties (app. 1h per week) and work in different working groups and committees (app. 5h per week). In modern society appreciation is highly associated with money. In Sieben Linden this is partly the same, partly not. Voluntary work needs appreciation by personal gratitude (e.g. thanking rounds).
Sustainable domestic economy
Sieben Linden collectively provides for everyone the supply of food and household goods. For an equal daily fee everyone can take out what is needed from the communal storage spaces. Children don't have to pay for food, they are supported by the community. When buying food we emphasize organic, fair trade and local products.